Hi there! If you're new to Digaboom, welcome. We are happy to have you here. If you've been with us for a while, thank you for staying on the journey.
Regardless of which of those particular scenarios is the accurate description, this post is to help get you the most out of being part of this new community we call Digaboom.
The first thing we should get across is that our goal – our raison d'etre – is to be more than just a freelance job-board. There are plenty of those options out there – we're not looking to simply add more noise to the cacophony. And that's the primary reason why we started from a Community-first perspective.
As a founding team, we were surprised by the lack of a single online location that was for ALL expert independent talent in the "digital marketing" space – and only the digital marketing space. Not just web design and web development, but content marketing, SEO, social media, photography, video, animation, data visualization, etc. – and the folks expert in deploying the marketing technology tools that drive digital marketing today. All of these skillsets under one roof, just a click away from networking and collaboration opportunities. And of course, with all of you folks congregating together, we'll certainly drive in plenty of project opportunities to everyone.
Please note – we're still in Beta and we have more work to do to realize Digaboom's full potential and detailed roadmap. Please keep sending feedback as you come across anything that doesn't work, is missing, or you think could be done better. We're thick skinned – we can handle it and want to know.
The Basics
The first place we'll start with are the basics – and that really means your profile.
Think about it – your profile is your calling card to the rest of the Digaboom Community – and to companies that might evaluate you for project work. We understand that you might still be kicking the tires a bit and aren't sure about really spending the time on yet another profile (if we were you, we'd be thinking the same way).
Well, we hope that you do spend the time and know that there are collective benefits for everyone as we build up more and more complete profiles. So let's go through some of the main elements of your profile.
Profile Picture
So, what represents you better – this?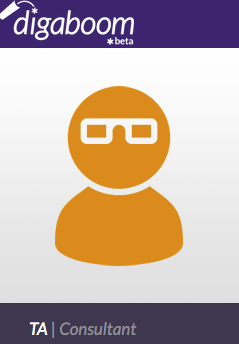 Or this?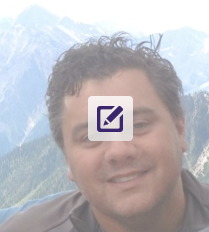 Obviously that generic avatar was meant only as a placeholder – and we hoped a very temporary placeholder. Sure, no one is swiping left or right on your Digaboom profile pic, but certainly having one gives much more dimension to your virtual personality.
If you registered using your LinkedIn credentials, that profile picture (with a LinkedIn watermark) is automatically set as your Digaboom profile picture. However, if you registered manually using your email address, you will need to set a profile picture of your choosing. This is easy to do – simply click on "edit profile" in the upper right, click the edit icon on your profile picture and upload the picture that best represents you.
Personal Introductions
When we designed and developed the Profile, we wanted to give folks a more creative way of expressing their personality. To make this happen, we've added some features that let you do this beyond stating your skill areas of concentration.
These include a personal introduction, words or phrases that describe you (be as creative or as matter of fact as you want here), and/or a favorite quote. Here are some examples that push beyond the norm and that we like.



See for Yourself
While a picture may speak a thousand words, video can add even more dimension to letting you tell your story. Even if there's not a TED talk of you (or something more salacious and Kardashian-like), perhaps you've given other presentations recorded on video that you'd want to share. Or you've created videos or animated illustrations that capture your work. Or maybe there are movie clips or motivational videos that have had great influence on you and are as much a part of your ethos as anything you could have said or done yourself. Don't leave this section empty – use it to further tell your story. Here are some great examples.
Portfolio
Hopefully you've all noticed that you can include a Portfolio as part of your profile. We think it's the most important part of your profile and have spent a lot time trying to get it right (of course there is still more work to do).
Now we understand that Portfolios have long been the domain of more creative disciplines, but in reality, we all have a portfolio of work to show. With Digaboom, we think every skill area and concentration should be able to share their work, and we've tried to accommodate the broad range of expertise we find in our Community.

If you haven't found where the Portfolio is yet, there are a couple of ways to get to it. The most obvious is the left-hand navigation link that says "my portfolio". There's also the purple two-headed arrow button in the upper-right of your profile screen.
Adding a Portfolio is easy. Simply click on the big plus sign in the empty orange box in your Portfolio to open the interface to add a new project. From there, upload a screen shot or image that best represents your project (you can add multiple images) as well as complete the other data to describe the work you did, what industry it was in, when you did it and the other team members that you collaborated with. Once you're ready to share with the world, just hit the publish button.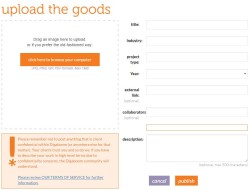 After you've published a project and are in your own Portfolio, you'll notice that as you mouse over your projects, they will activate with an orange filter and display some editing icons that will allow you to drag and re-sort the order of your projects, go back into a project to further edit, or even delete one.
You should also notice that once you have 5 or more projects in your portfolio, the one in the top left is enlarged and serves as your hero project.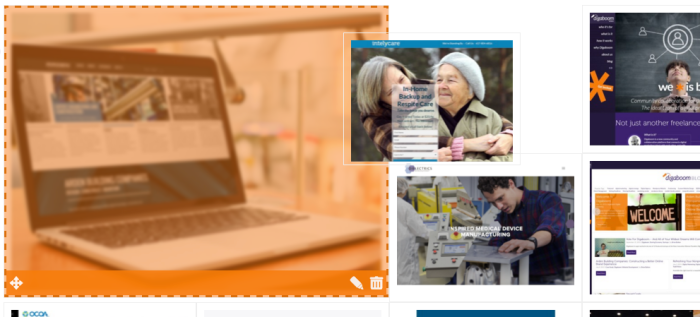 If you're a voyeur in someone else's portfolio, mousing over a project will reveal its high level details helping you to decide whether you want to click into it or not. Below are some example Portfolio's we like for a writer/content strategist, web designer, data visualization expert and an illustrator.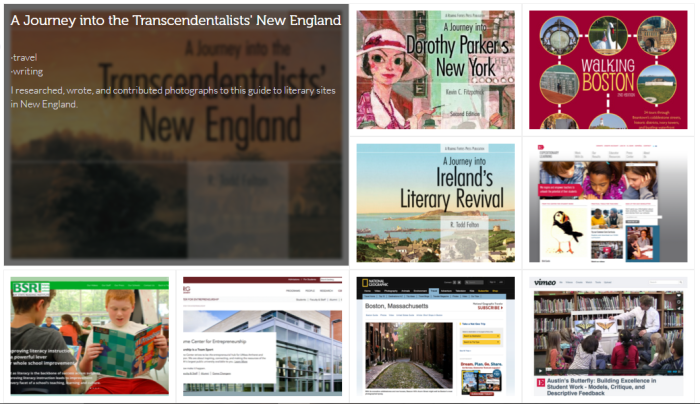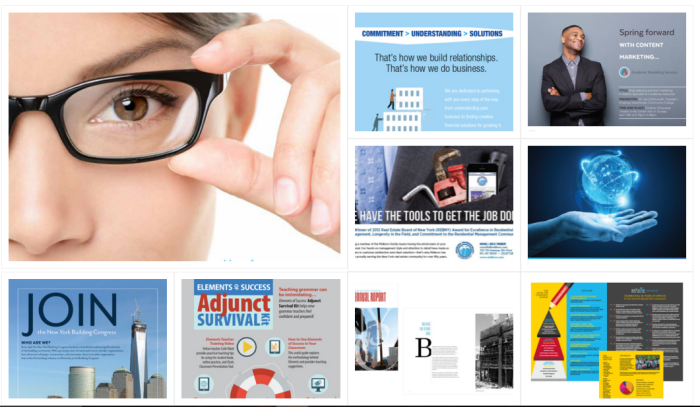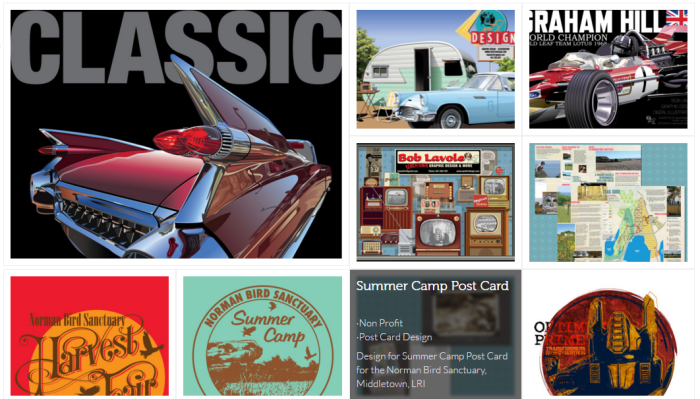 Clicking into Portfolio projects reveals full details of your work and in the case of this photographer's project, serves as a photo album for these particular shoots in New England.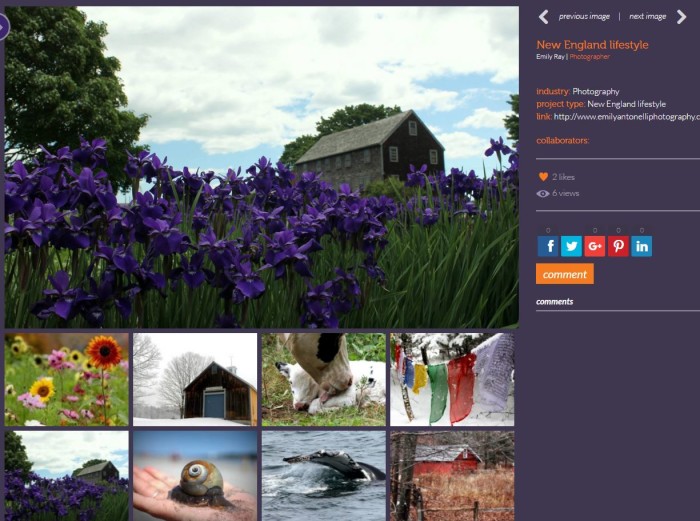 And if you see something you like, feel free to share it via social media…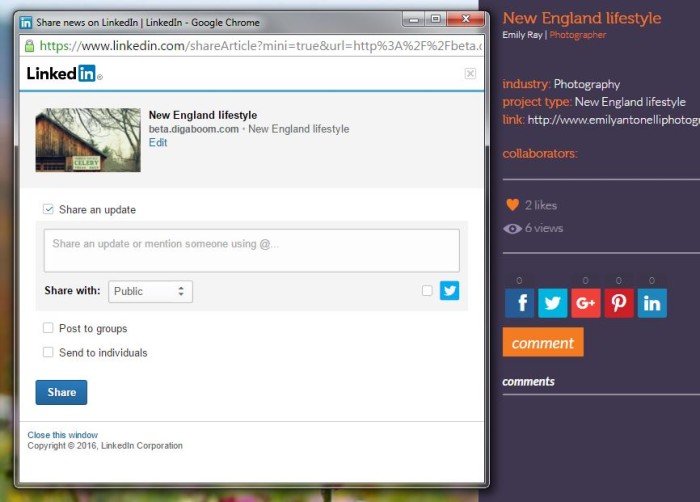 Or leave a constructive or friendly comment.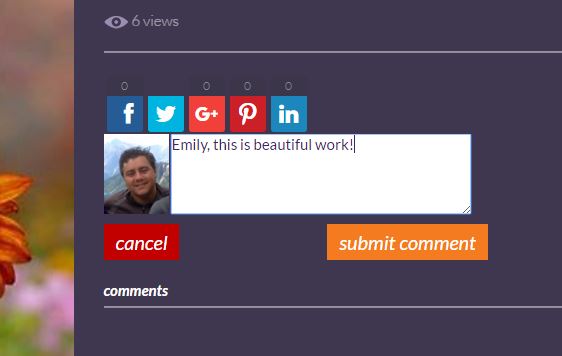 Hourly Rates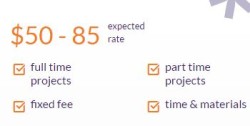 What you charge for an hourly rate is extremely personal. We understand that. To get you going with your new profile, we do include a placeholder rate of $50 to $85 hour. For some folks, this a lot. For some folks, this is what they charged with they first started freelancing 5 years ago. Please note that this is not any indication of what we think your rate should be (we actually have no idea what it should be) – it's simply an example of what your profile looks like with a completed hourly rate.
Obviously you're going to want to set your own rate – and that's easy to do. Simply click on "edit profile" in the upper right and scroll down the edit profile screen to where you see expected rate. Fill in the rate range that you typically charge clients and save your profile.
We also understand that not everyone wants to publish their hourly rate – and we've accommodated that. Just leave expected rate blank and save your profile – no hourly rate will display at all.
Stay tuned
Hopefully this primer showed you a thing or two you didn't know you could do in Digaboom. As we add new functionality – or come across frequently asked questions that could use some clarification, we'll be sure to publish more posts like this one.
In the interim, if you have further questions, we are only an email away.