Digaboom had the good fortune to host the inestimable Ann Handley on Thursday night at the UMass Lowell Innovation Hub. For those not in the know, Ann is the Chief Content Officer of MarketingProfs and the best-selling author of two books on content marketing – Content Rules and Everybody Writes. She walked our audience of close to 50 through her three B's – her recommendations for better marketing:
Before fully explaining each of those, she set the stage for their relevance. The reality is that most organizations are planning to release more content (70% more, according to recent MarketingProfs research). Many of those same orgs are also reporting that only 34% of their content is "effective" (also according to MarketingProfs research). The takeaway here is that there is a flood of content headed your way and much of it will be useless.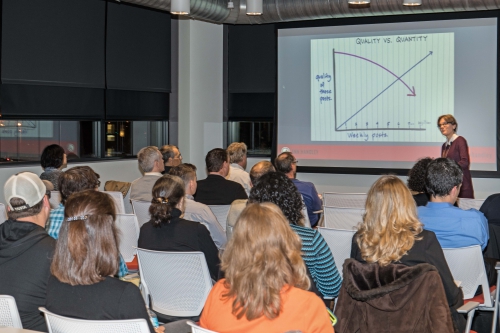 In the face of this onslaught of mediocre content, Handley asked the room one important question: are you delivering great content on your audience's terms? Although she didn't delve into this as much as I was hoping, it's an important question. What are you delivering that is useful to your audience? Do you know what your audience needs?
With that in mind, she inspired the attendees that they could create great (and effective) content if they worked along the following lines:
Bigger Context
The "bigger" refers to the context. She told us the story of Freaker, the knit beverage insulator (yes, a can "koozie"), and described the way they not just told their story but set it in the larger context of a lifestyle. They made their marketing about the Freaker lifestyle, not the product. Because of this approach, their customers have lined up to buy something they can get for free pretty much anywhere. The lesson here is: think bigger.
Braver Marketing
This could be one of the toughest to follow. We all have brave and bold ideas that speak to a bigger context. However, convincing the C-Suite or a client to play along may be the challenge. Obtain support by first getting clarity on brand voice, then showing how it can play out effectively. If you can can show that you are staying true to the brand, it can give you more freedom to play.
Bolder Perspective
What can you say that is different from the others who are selling similar products? Or, as Handley describes it, FIWTSBS (Find Interesting Ways To Say Boring Stuff). For example, does it pass the "label" test? If you peeled away the label – or your logo – would it stand out as your content or would it just sound like all of your competitors?
Throughout her talk, Handley sprinkled in examples from businesses across a wide range of industries, but there are many more out there. Who do you know who is marketing in a bigger, bolder, and braver context? Are you? Share what you know with us.