"The process of working with Digaboom was very efficient. The team from Digital Artisans was extremely talented and capable – and clearly had lots of experience working together on similar projects. They quickly got up to speed on our industry and business, and delivered a great solution that met both our budget and needs going forward. We'd definitely work with them again."

Jeff Potter
Vice President, Services
Arden Engineering Constructors
Background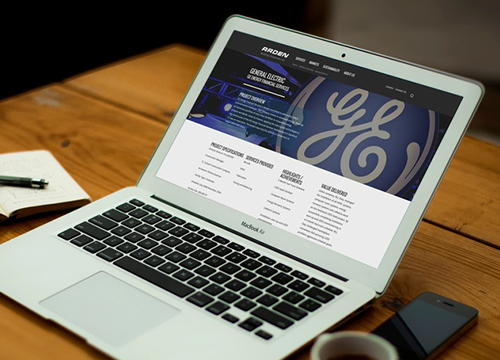 Arden Building Companies is one of the largest mechanical contractors in southern New England. With a 60+ year history and well over 250 employees, the Arden name is well known in the region. The company, however, actually operates throughout Rhode Island, Connecticut, and Massachusetts as a portfolio of companies that includes Arden Engineering Constructors, M.J. Daly, Corporate Mechanical of New England, Earthwise Energy Technologies, and Unique Metal Works.
Arden companies have worked on some of the biggest construction jobs in New England and consistently deliver superior mechanical, engineering, fire protection and sustainable energy projects to customers as diverse as Brown and Yale Universities, Pfizer, Bristol-Myers Squibb, General Electric, Providence Place Mall, Rhode Island Hospital, and the Worcester Recovery Center & Hospital.
Problem
As Arden's business and portfolio of companies has grown, so had their need for a website that effectively conveys the breadth of services, markets and customer expertise they have across their operations. Their prior website was unfortunately built as a platform of separate websites – one for each company. This made navigation difficult and confusing, and all but eliminated certain SEO opportunities that could be gained from consolidating content and driving traffic to a core URL. Static and hard-coded with a separate mobile site version, the site was extremely difficult to update. Additionally, it lacked a cohesive content and call-to-action strategy to drive more inbound traffic, convert those visitors to legitimate leads and customers, and give them reasons to return and engage.
Solution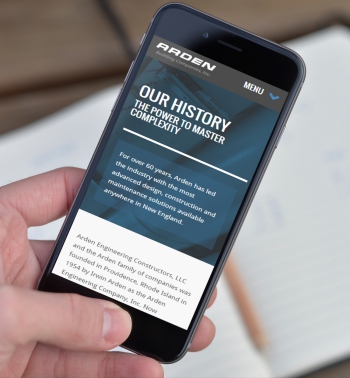 Arden turned to Digaboom and partnered with one of our Elite teams, Digital Artisans, to develop a new website and digital brand experience. Leveraging a user-centered discovery and design process, Digital Artisans delivered a completely custom user experience that significantly enhances Arden's online brand, more effectively captures and interconnects the totality of their subsidiary companies, capabilities and experience, showcases core project work, and better engages site visitors.
Designed using a custom theme and developed to be fully responsive for mobile device optimization, the new site is built on WordPress and provides non-technical Arden website administrators with an easy-to-update content management toolset. Additionally, the site benefits from considerable custom development, much of it necessary to accommodate the unique information architecture requirements driven by the need to combine 6 different sites into a single website entity. The site also includes a specialized fat footer that provides access to a range of company information with minimal use of page real estate. You can visit the site at www.ardeneng.com.
| | | |
| --- | --- | --- |
| Customer | | Arden Building Companies, LLC |
| Digaboom Team | | Digital Artisans |
| Project | | New B2B Website |
| Services | | Custom Website Design and Development |
| URL | | www.ardeneng.com |
| Technologies | | WordPress, PHP, MySQL |